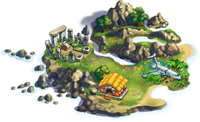 Please find below the list of quests in chronological order. Please also note this page is based on the Android version and will vary slightly in order and events across the multiple platforms and versions.
**Warning** In general, do not build structures before you get the quest, else it will not count and you will have to build another one. The exception to this is if you've already built the total number limit for that structure (for example, one Tax Office or three of a certain type of residential building). Also, please note the active Quests on the left and the active boosters on the right ARE scrollable. Swipe up and down to see all that are active. It is also helpful not to rush and clear all bushes, grass and trees because for some quests, you either have to clear a certain number of trees/bushes or find quest items in them.
Island:
Island of the Ancients
For Bathyscaphe quests, see here
For Chief's Residence quests, see here
For Pet Quests, see here
Main Quests
Edit
Note: There might be more than one quest triggering the appearance of another quest. Not all are noted here under "When it happens". It might be a bit different for you depending on the order in which you complete the quests.
Quest Title
Requirements to Complete
Rewards
When it appears
Tutorial

Tutorial

50
20
Initial Visit
Pick Berries

Pick Berries

10
10
Part of Tutorial
Chop Down 2 Trees

Chop Down 2 Trees

10
10
Part of Tutorial
Remove 2 Stumps

Remove 2 Stumps

10
10
Part of Tutorial

Load Improved Graphics
(if applicable)
2
20
Part of Tutorial

Build a
Hut

Build a Hut
Collecttax from the Hut

50
40
Part of Tutorial

Build a
Patch

Build a Patch
Grow Watermelons

30
Part of Tutorial

Build 2 Huts

Build 2 Huts

50
20
40
After tutorial

Chop down 4 Trees

Chop down 4 Trees

30
10
After tutorial

Pumpkin Feast

Build a Patch
Upgrade 2 patches
Plant 2 pumpkin patches

50
20
After chopping 4 trees

Chop Down Trees

Chop down 2 Apple Trees

50
10
After building 2 Huts

Build the first Ancient Bar

Build an Ancient Bar
Order a Quick Deal Ancient Bar

50
After building 2 Huts

Weed out 5 bushes and patches of grass

Weed out 5 bushes and patches of grass

50
10
After building 2 Huts

Gather Food

Gather food from a Berry Bush

50
20
5
After completing Pumpkin Feast

Watch the road for the Magic Crystal
Once found gives 24:00:00 discount on in-game purchase.
50
After Building Ancient Bar

A Need to Be Needed

Please give us your feedback!

None
After finding Magic Crystal

Build a Forester's Hut

Build a Forester's Hut
Order Quick Deal Forester's Hut

50
100
After building Ancient Bar

Build 2 Cauldrons

Build 2 Cauldrons

10
After building Forester's Hut and ordering a quick deal

Build 2 Nice Huts

Build 2 Nice Huts

200
35
80
After building Forester's Hut and ordering a quick deal

Upgrade and Order Deals

Upgrade the Ancient Bar to Level 2
Order a Standard Deal in the Ancient Bar

50
10
After building Forester's Hut and ordering a quick deal

Build 3 Flowerbeds

Build 3 Flowerbeds

50
10
After building Forester's Hut and ordering a quick deal

Mystery Chests

Open a safe

50
65
After building Forester's Hut and ordering a quick deal

Upgrading the Forester's Hut

Upgrade Forester's Hut Level 2
Order Standard Deal Forester's Hut

50
10
After upgrading Ancient Bar and ordering a Standard Deal

Chop down the Big Tree

Chop down the Big Tree

50
30
After upgrading Ancient Bar and ordering a Standard Deal

Upgrade 3 Huts

Upgrade 3 Huts to Level 2

150
35
50
After upgrading Ancient Bar and ordering a Standard Deal

Upgrade Ancient Bars and order Lengthy Deals

Upgrade 2 Ancient Bars to level 3
Order 2 Lengthy Deals in Ancient Bars

100
After upgrading Ancient Bar and ordering a Standard Deal

Construction and upgrade of Nice Huts

Build a Nice Hut
Upgrade 3 Nice Huts to level 2

300

30

After building 2 Nice Huts

Plant 3 Pretty Bushes

Plant 3 Pretty Bushes

20
After building 2 Nice Huts

Chase Enemy

Chase away 2 Murlods.

100
50
After chopping the Big Tree

Repair Jamboa's House

Repair Jamboa's House

250
50
After chasing 2 Murlods

Clear out 6 Stone Blockages

Clear out 6 Stone Blockages

100
50
After chasing 2 Murlods

Clear out 3 Big Stone Blockages

Clear out 3 Big Stone Blockages

50

20

After clearing out 6 stone blockages

Build a patch

Build a patch

20

10

After upgrading 3 Huts to level 2

Build an Ancient Bar

Build an Ancient Bar

100

50

After upgrading 3 Huts to level 2

Find the chest

Find the chest

20
After repairing Jamboa's house

Explore the cave

Explore the cave

100
200
After picking the treasure near Jamboa's house

Plant 3 Pumpkin Patches

Plant 3 Pumpkin Patches

30
10
After building a Patch

Satisfy Wishes

Fulfill 3 wishes in an Ancient Bar

50
20
After Building Ancient Bar

Find Items

Collect 5 stone tablets by collecting income from huts

50
20
After building Ancient Bar

Find Items

Find 3 suitable pumpkins from the pumpkin harvest

100
20
After collecting 5 stone tablets

Build a Forester's Hut

Build a Forester's Hut
Upgrade 2 Forester's Hut to Level 3

50
20
After upgrading Forester's Hut to level 2 and ordering a Standard Deal

Find Items

Find 3 Exotic Fruits in the Bushes

Completing this quest will unlock Cafeteria

50
20
After restoring Jamboa's house, upgrading 2 Ancient Bars to level 3 and ordering Lengthy deals

Build a
House

Build a House

300
80
After restoring Jamboa's house, upgrading 2 Ancient Bars to level 3 and ordering Lengthy deals

Build a Cafeteria

Build a Cafeteria

250
70
After restoring Jamboa's house, upgrading 2 Ancient Bars to level 3 and ordering Lengthy deals

Gather materials for carnival costumes

Find 5 Wonderbird feathers in the berry bushes
Find 3 Golden Fish Scales in Dino's Lair

100
25
After upgrading Ancient Bar to level 3 and ordering lengthy deals, upgrading Forester's Hut to level 2 and ordering a Standard Deal

Satisfy Wishes

30
10
After building Cafeteria

Upgrade patches and plant corn

Upgrade 3 patches to level 3
Plant 3 corn patches

100
20
After building cafeteria and reaching level 9

Upgrade the Main Building and Huts

Upgrade Main Building to level 2
Upgrade all Huts to their max level

100
100
After building cafeteria and reaching level 9

Safe Stone Mining

Find 4 picks in the Forester's Hut or take them from enemies
Find 4 helmets by upgrading huts, clearing blockages and bushes

Completing this quest will unlock Quarry

50
50
After building cafeteria and reaching level 9

Build a Quarry

Build a Quarry
Order a Quick Deal for the Quarry
Upgrade the Quarry to Level 2

200
200
After building cafeteria and reaching level 9

Planning ahead

Plant pumpkin on 5 Patches
Chop down 5 trees
Order 5 Lengthy Deals at the Ancient Bar

50

50

After reaching level 9

Protect against evil spirits

Find 5 ritual masks in the grass, bushes or blockages
Gather 5 berries to perpare a concoction
Start 5 bonfires to protect against spirits

50
75
After upgrading 2 Forester's Huts to level 3

Build a Dino's Lair

Build a Dino's Lair

200
300
After exploring the cave

Surprising Discovery

Harvest two Berry Bushes
Explore the Airplane (which also means that territory 1 should be unlocked)

Note: Coins and Experience points can be claimed only if the quest is completed within 9d 12h after exploring the cave. Completing this quest unlocks Tapi Bonus Tasks

100

50

After exploring the cave

Build a Warehouse

Build a Warehouse

200
200
After building a House

Build 3 Benches

Build 3 Benches

50
After building a House

Build 2 Ancient Bars

Build 2 Ancient Bars

50
50
After Building a House

Upgrade 3 Nice Huts

Upgrade 3 Nice Huts to level 3

100
20
After building a House and building 2 Ancient Bars (4 in total)

Gathering Samples

Gather 5 berry samples from the drinks at the Ancient Bar
Gather 3 mineral samples from which beads are made (House)
Collect water from an underground water source in the Cave

300
30
After Initial Exploration of the Cave and building 2 Ancient Bars (4 in total)

Cocktail party

Order 5 Lengthy Deals in the Ancient Bar
Fulfill 5 Wishes in the Ancient Bar

100
10
After Building 2 Ancient Bars (4 in total)

Scientific Research

Find 4 Powerful Magnets in the Mysterious Cave
Find a Complex Lens in Dino's Lair

30

40

After finishing Planning Ahead and initial exploration of the cave

Reasonable Fears

Collect income from Huts 4 times
Collect income from Nice Huts 5 times

30

30

After finishing Planning Ahead

Clear Land

Clear out a massive stone blockage by Jamboa's Hut

50
50
After upgrading 3 Nice Huts to level 3

Improving resource production

Upgrade 2 Forester's Huts level 4
Upgrade a Quarry to Level 3

50
50
After reaching level 11

Elite Buildings

Build a Forester's Hut
Upgrade a Forester's Hut to an Elite Forester's Hut
Execute a Long-Term Deal at an Elite Forester's Hut

750

100

150

After reaching level 11

Solar Assistants

Find 200 Sun Dials by collecting profit from Houses

Note: This is a Bonus Task and is also time-limited.

10,000 1,000

1 Sun storeroom
After reaching level 11

Upgrade the
Main Building to level 3

Upgrade the Main Building to level 3

500
400
After building a Quarry, ordering a Quick Deal and upgrading it to level 2.

Hearty breakfast

Plant Corn on Patches 3 times
Fulfill 5 villagers' wishes at the Cafeteria

100

100

After upgrading a Forester's Hut to Elite and ordering a Long-Term Deal

Gem Sample

Find a Blue Gem Sample in the Mysterious Cave
Find 3 Rugged Mortars in the Mysterious Cave

200

50

After upgrading a Forester's Hut to Elite and ordering a Long-Term Deal

Dino's Lair

Let Dino chase away 2 Murlods
Order a Quick Deal in Dino's Lair

300
50
After building Dino's Lair

Elite Cafeteria

Upgrade your Cafeteria to make it Elite
Fulfill 5 villagers' wishes at the Cafeteria

100

100

After finishing Hearty Breakfast quest

Mine 2 gold veins

Mine 2 gold veins

20
After expanding territory 1

Raze the Murlods' hut to the ground

Raze the Murlods' hut to the ground

100

50

After expanding territory 1

Upgrade the House

Upgrade the House to Level 2

200
100
After building second Warehouse

Purchase territory 2

Buy Adjacent territory 2 for 5,500

200
After completing Dino's Lair quest, Aurora gets kidnapped

Upgrading
Dino's Lair

Find an Egg in the cave
Upgrade Dino's Lair to level 2
Order a Standard Deal in Dino's Lair

100
10
After completing Dino's Lair quest

A Unique Substance

Upgrade your Forester's Hut to exclusivity

20

50

After completing Gem Sample Quest

Exclusive Forester's Hut

Order a Long-term deal at your Exclusive Forester's Hut

150

25

20

After upgrading a Forester's Hut to exclusivity

Building Houses

Build 2 Houses
Upgrade 2 Houses to level 3

100
100
After upgrading House to level 2

New, wide roads

Build 10 Wide road sections

50
After upgrading House to level 2

Plant 5 Corn Patches

Plant 5 Corn Patches

500

80

After upgrading House to level 2

Build 3 Braziers

Build 3 Braziers

200
80
After reaching level 13

Plant 5 Wheat Patches

Plant 5 Wheat Patches

300
50
After reaching level 14
Maximal upgrades of Ancient Bars

Upgrade 4 Ancient Bars to level 4
Order 4 Long-term Deals Ancient Bar

50
10
After reaching level 14

Destroy the Murlods' hut

Destroy the Murlods' Hut

100
30
After territory 2 Expansion for 5500

Buy territory 4

Buy territory next to the Murlord's home

200

200

After territory 2 Expansion for 5500

Clearing out the jungle

Cut down 7 trees
Root out 15 patches of grass
Dig out 3 treasures

50

20

After territory 2 Expansion for 5500

Spa Services

Build a Bathhouse
Upgrade the Bathhouse to level 2
Execute a Standard Deal in the Bathhouse

100
100
After upgrading Main Building to level 3

Find 5 Bamboo Pipes

Find 5 Bamboo Pipes from Enemies or find them in trees

Note: Completing this quest unlocks Bathhouse

100
20
After upgrading Main Building to level 3

Decorating the village

Place 6 Slabs
Place 3 benches
Plant 2 Pretty Bushes

200
20
After upgrading Main Building to level 3

Upgrade 2 Warehouses

Upgrade 2 Warehouses to level 2

100
200
After upgrading Main Building to level 3
Dino's Rides

Find an Egg in the cave
Build another Dino's Lair
Execute 2 Lengthy Deals in Dino's Lair

500
50
After upgrading Main Building to level 3

Jamboa's Jam Recipe

Pick berries from 7 bushes
Place 3 Cauldrons

200
20
After decorating the village

Build 4 Idols

Build 4 Idols

20
100
After completing Jamboa's Jam quest

Collect Income

Collect income from Houses 5 times

50
10
After completing Jamboa's Jam quest

Find Items for the Musicians

Find 3 Guitars in the Ancient Bar
Find 3 Maracas Forester's Hut
Find 3 Hats in a Nice Hut

120
40
After finding materials for carnival costumes

Helping Jamboa

Collect profit from Huts 7 times
Collect profit from Nice Huts 5 times
Collect profits from Houses 3 times

100

30

After reaching level 15

Sub-dimensional Storage

Place any building in the warehouse
Remove any building from the warehouse

500

50

After reaching level 15

Rejuvenating Berries

Harvest Berry bushes 20 times

50

50

After helping Jamboa by collecting income

Pie for Friday

Weed out 4 bushes and patches of grass
Gather food from a berry bush 2 times

50

20

After upgrading 2 Warehouses to level 2

Upgrade the Main Building

Upgrade Main Building to Level 4
Upgrade 3 Houses to level 4

50
100
After upgrading 2 Warehouses to level 2

Build an
Altar of Feelings

Build an Altar of Feelings!

50
20
After upgrading 2 Warehouses to level 2

Altar of Love

Build an Altar of Feelings
Hold 3 Rituals at the Altar of Feelings

Note: On the Android version, two quests with the task "Build an Altar of Feelings" appeared, though it is sufficient to build only one Altar

50

30

After completing Pie for Friday

Baking biscuits

Plant 5 Wheat Patches
Build a Festive Fireplace

60

30

After completing Pie for Friday

Safe Research

Find Glass Dust at the Ancient Bar
Find Quicksilver on Patches
Find Stone Disks in the Cave

20

40

After completing Scientific Research

Tonic Coffee

Harvest the Coffee Tree 15 times

50

50

After completing Rejuvenating Berries

Hold the Festival

Hold a wedding ritual 5 times
Collect profit from residential houses 10 times
Make a wedding screenshot

200
10
After building an Altar of Feelings

Builder in a Fur Coat

Find 5 Red Paint by ordering deals at the Solar Tree
Find 5 Beautiful Wreath by ordering deals at the Furniture Store
Find 5 planks of Mahogany by building Sun Roads

Note: Completing this quest unlocks the Holiday Palace Structure

500

500

After reaching level 16

Plant a Coffee Tree

Plant a Coffee Tree
Collect 5 Portions of Coffee from the Coffee Tree (item drop)

100
50
After collecting stuff for musicians

Find Items

Find 4 Prasilia Nuts on Patches

70
20
After collecting stuff for musicians

Cocktail Mix

Fulfill 3 drink wishes in the Ancient Bar
Order Lengthy Deals in an Ancient Bar

50

30

After planting 5 Wheat patches

Feeding and riding

Plant 4 Corn Patches
Order 3 Long Term Deals at Dino's Lair

50

50

After completing Dino's Rides

Demolish the Murlod's Hut

Demolish the Murlod's Hut

Note: Demolishing this Murlod's Hut saves Aurora

100
After unlocking territory 4 for 7500

Clearing out the jungle

Cut down 7 trees
Rot out 15 bushes or patches of grass

100

30

After unlocking territory 4 for 7500

Find Items

Find 3 Soccer Balls by collecting income from Huts

60

25

After planting a coffee tree and collecting 5 portions of coffee

Ancient Wisdom

Collect income from Houses 4 times
Plant Watermelons on Patches 6 times
Order Lengthy deals at Ancient Bar 4 times

30

40

After completing Safe Research

Packing for the journey

Order Standard deals at Dino's Lair 4 times
Chop down 3 trees
Harvest berry bushes 3 times

Note: First attempt on teleportation happens on completing this quest. A small portion of the clouds in the south of territory 15 will be cleared, revealing a cave.

30

40

After completing Safe Research

Investigate the site of plane crash

Investigate the site of plane crash
Buy adjacent territory (territory 1)

500

700

After saving Aurora

Clear out 2 massive stone blockages

Clear out the blockage
Clear out the blockage

Note: Both massive blockages are located in territory 2

500

30

After saving Aurora

Escape Route

Find 4 Wooden Disks by cutting down trees
Find 6 Stone Dust in the Mysterious Cave
Find 1 Essence of Silver on Patches

50

50

After completing Packing for the Journey

Long-Term plans

Dispel the Mist over the Sakura
Buy the Cherry Valley territory
Order 6 Lengthy Deals at a Forester's Hut

20

40

After completing Packing for the Journey

Fulfill Wishes

Fulfill 7 wishes at the Ancient Bar
Fulfill 5 wishes at the Cafeteria

60

30

After finding Soccer Balls

Interrogate 3 enemies

Interrogate 3 Enemies

100
50
After clearing Massive blockages

Fulfill Wishes

Fulfill 6 wishes in the Ancient Bar
Fulfill 5 wishes in the Cafeteria
Fulfill 3 wishes in the Bathhouse

50

50

After clearing Massive blockages

Find Items

Find the damaged analyzer (in the Mysterious Cave)

100
50
After interrogating enemies

Build a Cozy House

Build a Cozy House

100
After upgrading Bathhouse to level 2 and executing Standard Deal

Wood into Lumber

Build a Lumber Mill
Order a Quick Deal Lumber Mill

100
100
After upgrading Bathhouse to level 2 and executing Standard Deal

Find Items

Take 4 saws from enemies or find them in treasure chests

Note: Completing this quest unlocks unlocks Lumber Mill

100
20
After upgrading Bathhouse to level 2 and executing Standard Deal

Bath Season

Build 2 Bathhouses
Order 4 Long-Term Deals in Bathhouse

50
After upgrading Bathhouse to level 2 and executing Standard Deal

Satisfy Wishes

50
10
After upgrading Bathhouse to level 2 and executing Standard Deal

Find Items

Gather 5 tablets from Cozy House and the Wedding Arc

Note: Wedding Arc and Altar of Feelings are the same. Completing this quest unlocks School

100
20
After building a Cozy House

Build 2 Cozy Houses

Build 2 Cozy Houses
Upgrade 2 Cozy Houses to Level 3

200
100
After building a Cozy House

Build a School

Build a School

100
100
After building a Cozy House

Find Items

Find Sulfur in the Cave
Find Coal in the Quarry
Find 5 Pumpkin Vessels in the Fields

150
75
After Satisfying Wishes in Ancient Bar and Cafeteria

Younger Still

Harvest Berry Bush 10 times
Satisfy 15 wishes for the Ancient Bar
Satisfy 15 wishes for the Cafeteria

30

80

After completing Tonic Coffee

Drive away 7 Murlods

Drive away 7 Murlods

20

30

After fulfilling wishes in Ancient Bar, Cafeteria and Bathhouse

Find 3 treasures

Find 3 treasures

100
After fulfilling wishes in Ancient Bar, Cafeteria and Bathhouse

Put up 4 Blooming trees

Put up 4 Blooming trees

20

20

After fulfilling wishes in Ancient Bar, Cafeteria and Bathhouse

Long Term Deals at Forester's Hut

Order 4 Long Term Deals in the Forester's Hut

50
After putting up 4 Blooming trees

Slight Fatigue

Satisfy 10 wishes for the Bathhouse

100
After completing Younger Still

Sweet Scents

Explore the Airplane 5 times

80
After completing Slight Fatigue

Sun Tree

Build a Sun Tree
Order 3 Quick Deals Sun Tree

50
150
After building Lumber Mill and completing a Quick deal

An Ancient Tree

Find 8 Hard Nuts by ordering deals on Lumber Mill
Find 8 Watering Pots by ordering deals on the Field

Note: Completing this quest unlocks Sun Tree

50
70
After building Lumber Mill and completing a Quick deal

Build a Raft

500
500
After exploring the Airplane

Find Items

Find 4 Propellers in the Airplane

200
200
After exploring the Airplane

Collect income from Cozy Houses

Collect income from Cozy House 5 times

50

10

After building 3 Cozy Houses

Lumber for the village

Build a Forester's Hut
Build a Patch
Order 2 Long-Term Deals in the Lumber Mill

50
50
After building 3 Cozy Houses

Upgrade the
Main Building

Upgrade the Main Building to level 5

100
After collecting income from Cozy Houses

Another try

Explore the Mysterious Cave 8 times

150
After completing Sweet Scents

Beautiful and safe

Put up 3 horizontal fences
Put up 3 vertical fences

50
After upgrading 2 Cozy Houses to level 3

Harvest Holiday

Plant 3 Pumpkin Patches
Plant 3 Corn Patches
Plant 3 Wheat Patches

100
50
After digging out three treasures

Find Items

Capture 5 starfish in the Bathhouse

100
50
After digging out three treasures

Destroy Murlods' hut

Destroy the Murlods' hut

50
50
After 15,000
Area 7 Expansion

Doubts and Clues

Chop down 3 trees
Weed out 4 bushes

30

40

After expanding Cherry Valley territory

Mischievous Wind

Find 6 Recovery Recipes in the Bushes and Trees

30

40

After completing Long-term plans

Hitting Range

Explore the Mysterious Cave once
Find 3 Pretty Combs in the Mysterious Cave

50

30

After completing Long-term plans

Place 3 Penguins

Place 3 Penguin Ice Statues

100
50
After reaching level 20

Chief's Residence

Build the Chief's Residence

Note: See here for Chief's Residence quests.

100

1

4

After reaching level 20

Housewarming

Visit the Chief's Residence

110

1

After building Chief's Residence

Work for a Gardener

Find 2 Gardening Kit in the bushes
Find 4 Garden Pitchfork in the trees
Find 3 Garden Barrow on Patches

50
After completing Mischievous Wind

Plant bushes and place benches

Plant 4 bushes
Place 3 Benches

50
20
After completing Harvest Holiday

Verifying the theory

Find 3 elegant feathers in the Berry Bushes

20
30
After completing Hitting Range

Gather datas

Harvest Patches 6 times
Collect income from Huts 4 times
Collect income from Nice Huts 6 times

20
40
After completing Hitting Range

To Learn More!

Collect profits from Huts 30 times

500

70

After completing Another try

A Proven Recipe

Order 6 Quick Deals at the Forester's Hut
Order 4 Standard Deals at the Forester's Hut
Order 2 Lengthy Deals at the Forester's Hut

80

110

After completing To Learn More!

Refinement!

Order 5 Quick Deals at the Lumber Mill
Order 3 Standard Deals at the Lumber Mill
Order 2 Lengthy Deals at the Lumber Mill

100

50

After completing A Proven Recipe

Sun Harvest

Upgrade 2 Sun Trees to level 2
Order Standard Deals at the Sun Tree

50
50
After Building Sun Tree

Build a Sun House

Build a Sun House

50
50
After Building Sun Tree

Sun Serving Time

Build a Sun Dial

50
150
After Building Sun Tree

Keeping Time

Find 10 Sun Dial Hands by ordering Deals in Quarry
Find 10 Sandals by ordering deals in Field
Find 10 Sun Totems by ordering deals at Lumber Mill

Note: Completing this quest unlocks Sun Dial

70
70
After Building Sun Tree

Find Items

100
50
After finding 4 propellers in the Airplane

Stock for travelers

Stockpile 400 Lumber
Stockpile 700 Stone

500
After Building Raft

Preparing for traveling

Find a Compass in the Airplane
Find a Backpack in the Airplane
Assemble all fragments of the map. Look for them in bushes, blockages and Jamboa's Hut

100
100
After Building Raft

Make your way to the Stonehenge

Make your way to Stonehenge (Expand into Area 5 30,000)

100
After Building Raft

Find tools and flashlights

Take 5 spanners from the Murlods
Take 3 flashlights from Murlods
Find a drill in the Airplane

150
100
After finding Transmitter in the Airplane

Potion Ingredients

Pick 5 Mushrooms
Root out 7 Bushes

70
After completing Refinement!

Start a Journey

Start a Journey to Marble Fiord

Note: You will also be asked to drop by Marble Fjord periodically after completing this quest. Each time, you will be rewarded 100!

200
After completing Preparing for Traveling

Clear out Massive Stone Blockages

Clear out 5 Massive Stone Blockages

300
After Area 5 Expansion for 30,000

Destroy the Murlod's Hut

Destroy the Murlod's Hut

100
50
After Area 5 Expansion for 30,000

Young leaves

Restore the Sakura to level 2

50
1
After completing Work for a Gardener

The Chief rests, revenue grows

Build a Taxation Office
Order a Quick Deal at the Taxation Office

200
100
On returning to Island of the Ancients after visiting Marble Fjord for the first time

Resource
delivery to Marble Fjord

Build the Zeppelin Harbor
Send 200 units of food to Marble Fjord

100
50
On returning to Island of the Ancients after visiting Marble Fjord for the first time

Difficult Conditions

Find a calculator in the Airplane
Find 5 Statuettes of Wealth in the Bar, Dino's Lair or the Bathhouse.

Note: completing the quest unlocks Trading Post

100
30
After completing Bath Season

Build a Trading Post

Build a Trading Post
Order a Quick Deal Trading Post

200
After completing Bath Season

Speak with the Hermit

Speak with the Hermit (Expand to Area 6 30,000)

100
After clearing 5 massive stone blockages in Area 5

Great Miracle

Restore the Sakura to level 4

50

1

After completing Young Leaves

Build a
Cottage

Build a Cottage

200
After completing Difficult conditions

Prepare a remedy for the mysterious illness

Collect 10 patches of any grass
Build 3 cauldrons
Find 2 First Aid Kits in the Airplane

100
20
After completing Difficult conditions

Find Items

Find 3 canisters in the Airplane

50
100
After finding tools and flashlights

More Berries!

Root out 3 Berry Bushes
Harvest Berry Bushes 10 times
Harvest Coffee Tress 15 times

60

80

After completing Potion Ingredients

Surpassing the Masters

Build a Furniture Shop

50
100
After Building Sun House

Furniture Boom

Find 10 Sun Cones by ordering deals at Sun Tree
Find 8 Wood Articles by ordering deals at the Lumber Mill
Find 6 Varnish Brushes by ordering deals at Forester's Hut

Note: Completing this quest unlocks Furniture Shop

80
80
After Building Sun House

A Surprise for Aurora

Upgrade 2 Sun Houses to level 2
Chop down 10 trees

50
50
After Building Sun House

Stone and its processing

Build a Stone Processing Mill
Build a Quarry
Order a Quick Deal in the Stone Processing Mill

500
200
After building a Trading Post and ordering a Quick Deal

Find Items

Find 5 Hammers in the Quarry or take from Murlods

Note: Completing this quest unlocks Stone Processing Mill

100
50
After building a Trading Post and ordering a Quick Deal
Mine Gold Veins

Mine 5 Gold Veins (Expand into
Area 3 for 10,000)

100
After building a Trading Post and ordering a Quick Deal

More commerce means more money

Build 2 Trading Posts
Order 2 Long-Term Deals in the Trading Post

200
100
After building a Trading Post and ordering a Quick Deal

Gifts from the Sun

Upgrade 3 Sun Trees to level 3
Order 4 Quick deals
Order 4 Lengthy Deals

80

80

After completing Sun Harvest

Fulfill the villager's wishes

Fulfills 10 wishes in the Ancient Bar
Fulfill 5 wishes in the Wedding Arc
Fulfill 3 wishes in the Bathhouse

100
20
After preparing a remedy for the mysterious illness

By Pilot's Trail

Buy the territory where pilots organised their Camp (Territory 12)
Investigate the Pilot's Camp
Gather 5 Parts of Pilot's Diary

1,000
200
After gathering all gas canisters

Entertainment proceeds to the coffers

Collect income from Dino's Lair 5 times
Collect income from Bathhouse 5 times
Collect income from Trading Post 3 times

50

10

After fulfilling the villagers' wishes

A Present for Aurora's Birthday

Find the Fan in the Trading Post

200
50
After fulfilling the villagers' wishes

Best Chiefs Competitions!

Build a Tournament Palace

2,500
On reaching level 23

Build a Totem of Competition

Build a Totem of Competition

2,500

350

300

On reaching level 23

Demonstrating Wealth

Build a Snow Fortress

5,000

1,000

On reaching level 23

Awaiting Guests

Chop 10 Trees
Pick 10 mushrooms
Root out 20 bushes

300

150

On reaching level 23

A Little Bit of Magic

Restore Sakura to level 6

40

1

After completing Great Miracle

Invigorated Jamboa

Build 4 Idols
Build 4 Flowerbds
Build 5 Wide Road sections

100
After completing More Berries!

A Mysterious Disappearance

Explore the Mysterious Cave

50
After completing Invigorated Jamboa

A Delicious Potion

Order 20 Long-Term Deals at the Ancient Bar

300
After completing Mysterious Disappearance

A lovely village

Place 4 Slabs
Place 3 Idols
Plant 3 Blooming Trees

50
20
After completing Entertainment proceeds to the coffers

Time Management

Build 3 Sun Dials (build 2 more)
Chop down 3 trees
Root out 5 bushes

100
100
After Sun Serving Time

Destroy Murlods' hut

Destroy the Murlods' hut

50
30
After 10,000
Area 3 Expansion

Build a
Pig Farm

Build a Pig Farm
Order a Quick Deal at Pig Farm

400
200
After building Stone Processing Mill

Find Items

Find 5 Succulent Fruits on the patches or in bushes around the village

Note: Completing this quest unlocks Pig Farm

100
50
After building Stone Processing Mill

Increase production of Cut Stone

Upgrade the Stone Processing Mill to Level 4
Order a Long-Term Deal in the Stone Processing Mill

100
100
After building Stone Processing Mill

Build 3 Columns

Build 3 Columns

100
20
After building Stone Processing Mill

Using the warehouse

Place any building in the warehouse
Remove any building form the warehouse

10

10

After building Pig Farm and ordering a Quick Deal

More Magnificence!

Upgrade 3 Sun Houses to level 3

70

70

After completing A Surprise for Aurora

Build a Museum

Build a Museum

300
200
After building a Cottage

Cottages for all

Build 2 Cottages
Upgrade 2 Cottages to level 3

200
300
After building a Cottage

Upgrade Main Building

Upgrade the Main Building to level 6

200

100

After building a Cottage

Wisdom in the Roots

Upgrade 3 Sun Trees to level 4
Order 4 long-term deal
Order 4 standard deal

100
150
After completing Gifts from the Sun

Ancient Masters

Upgrade 2 Furniture Shops to level 2
Order 3 Standard deals

50
50
After completing Surpassing the Masters

Sunbathing

Fulfill 5 wishes at Solarium
Order Quick deals

100
150
If you build a Solarium (optional)

Work It Up!

Accumulate 500 Sun Tiles
Upgrade the Solarium to level 2
Order 5 Standard Deals

100
150
After

Sunbathing

Onward to Perfection!

Upgrade the Solarium to level 4
Order 4 Lengthy Deals
Order 4 Long-Term Deals

100
150
After Work It Up

Collect Income

Collect income from Cottages 5 times

50
10
After building 2 Cottages

Neighborly Help

Stockpile 1500
Stockpile 1500
Stockpile 1500

200

180

After completing Awaiting Guests

Iron Bird


Look for a Fan in the Airplane
Look for Perfume in the Airplane
Look for a Book in the Airplane

500
After talking to the Hermit

Beauty of the Sun

Upgrade 3 Sun Houses to level 4
Collect profits from Sun Houses 6 times

100

100

After completing More Magnificence!

That's Not All!

Upgrade 3 Furniture Shop to level 3
Order 5 Lengthy Deals
Fulfill 5 wishes at the Furniture Shop

70
70
After Ancient Masters

Spices for Grog

Build a Trading Post
Order 4 Long-Term deals in a Trading Post

70

40

After completing More commerce means more money

Year of Plenty

Restore the Sakura completely

50

60

After completing a Little Bit of Magic

Beyond the Mist

Dispel the Mist over the Forester's Shed
Buy the Mysterious Woods Territory

35

50

After completing a Little Bit of Magic

Ready to hunt (quest from Dzu)

Order 3 Long-Term Deals Lumber Mill
Order 3 Long-Term Deals Trading Post
Order 3 Long-Term Deals Pig Farm

200
After building Museum

Upgrade the Main Building

Upgrade the Main Building to level 7

200
100
After building Museum

Build a Pig Farm

Build a Pig Farm

Note: This quest appears only if you have not yet built the second Pig Farm on this island

100

100

After building Museum

Upgrading Pig Farms

Upgrade 2 Pig Farms to level 4
Order 4 Long-Term Deals on the Pig Farm

100
50
After building second Pig Farm

Build 2 Mansions

Build 2 Mansions

200
100
After building second Pig Farm

Find Items

Find 5 exotic fruits in the bushes
Find 5 expensive tablets by fulfilling the villager's wishes or collecting income from Cottages

Note: completing this quest unlocks Mansion

50
20
After building second Pig Farm

Restore Stonehenge

Restore Stonehenge
Collect the spirits' reward

1000

1000

After completing Iron Bird quest

First fruit

Gather any fruit from the Sakura 2 times
Decorate the village with a Tender Flower

40
After completing Year of Plenty

Stronger Together

Place Bonsai

30
After completing Year of Plenty

Punch for Friends

Build a Pot with Punch

100

50

50

After completing Spices for Gorg

Solar Assistants

Find 200 Dino Ladles by collecting profit from Houses

Note: This is a Bonus Task and is also time-limited.

10,000

1,000

1 Great Festive Pot

After reaching level 27

Enticing Offer

Install the Fairy Lantern
Collect income from Houses 5 times

50
After

Stronger Together

Dino Snowman Treasure

Begin the Dino Snowman Competition
Find the Dino Treasure in your Dino Snowman competition!

350

2

After finding the first Ice Key (in the Mysterious Cave)

Collect Lumber and Cut Stone

Collect resources from the Lumber Mill 3 times
Collect resources from the Stone Processing Mill 3 Times

50
10
After completing Upgrading Pig Farms

Hasty Repairs

Restore the Forester's Shed

50
After completing Beyond the Mist

Find Items

Find 3 rubber duckies in the Airplane

200
50
After collecting Lumber and Cut Stone

Helping neighbours

Plant 3 pumpkin patches
Plant 3 wheat patches
Order 3 Long-Term Deals at the Pig Farm

100
50
After collecting Lumber and Cut Stone

Fortune ritual

Pick berries from 7 bushes
Place 3 cauldrons
Find 5 rituals masks in the cave

100
20
After upgrading the Main Building to level 7

Stonehenge

Put up 5 Blooming Trees
Build 5 Braziers

500
After completing Restore Stonehenge

Embarking on the Path of the Warrior!

Order 3 Lengthy Deals at the Lumber Mill
Order 6 Standard Deals at the Lumber Mill
Order 12 Quick Deals at the Forester's Hut

200

200

100

After completing Restore Stonehenge OR After reaching level 30

A new Keeper

Build 6 Columns
Plant 5 Watermelons Patches

200
100
After completing Stonehenge (placing blooming trees and braziers)

Stonehenge Upgrade

Upgrade the Stonehenge to level 2
Order the Standard Deal at Stonehenge

100
75
After completing a new Keeper

First Deal

Order a Pixie Crate at the Forester's Shed

50
1
After Hasty Repairs

Real Magic

Order a Lengthy Deal at the Forester's Hut
Use a Deal booster

50


dealboost 30

1
After First Deal

New Shores

Unlock the Lost Shore Territory

300

100

150

After completing the First Pixie Crate order

From the Seabed

Find 22 using the Bathyscaphe
Find 14 using the Bathyscaphe
Find 9 using the Bathyscaphe

750

150

150

After completing the First Pixie Crate order

New Level of Mastery

Upgrade the Forester's Shed to level 2
Open a Pixie Casket at the Forester's Shed

50
After completing Real Magic

Look into the future of commerce

Build a Shaman Shop
Order a Standard Deal Shaman Shop

200
After building 2 Mansions

Shamanic Ritual Components

Find 3 Ancient Shaman Masks in the Mysterious Cave
Find a Glass Ball in the Airplane

Note: Completing this quest unlocks Shaman Shop

100
50
After building 2 Mansions

Mansion

Upgrade 2 Mansions to Level 3

200
After building 2 Mansions

Collect Income from Mansions

Collect income from Mansions 5 Times

50
10
After building 2 Mansions

Presents for villagers

Find 2 pairs of Sneakers in the wrecked Airplane
Find 5 pairs of Sunglasses in the wrecked Airplane

200
50
After upgrading Main Building to level 7 and building 2 Mansions

Quick Repairs

Use 2 Construction Boosters

50


buildboost 30

1
After New Level of Mastery

No Harm in Trying

Upgrade the Forester's Shed to level 3
Order a Pixie Chest at the Forester's Shed

50
After Quick Repairs

Communing with Spirits

Order 10 Long-Term Deals Ancient Bar
Order 5 Long-Term Deals Bathhouse
Order 3 Long-Term Deals Shaman Shop

200
After completing Ready to hunt

The prophecies are coming true

Build 2 Shaman Shops
Order a Long-Term Deal in the Shaman Shop

200
After completing Look into the future of commerce

Fulfill Wishes

Fulfill 5 Wishes in the Shaman Shop

100
10
After completing Look into the future of commerce
The Path of the Warrior, Step Two

Order 10 Quick Deals at the Quarry

100

150

After completing Embarking on the Path of the Warrior!

Stocking Up on Supplies

Plant 5 Pumpkin Patches
Plant 5 Corn Patches
Plant 5 Wheat Patches

300

200

After completing The Path of the Warrior, Step Two

In the Pursuit of the Ancient Bear

Explore the Mysterious Cave 5 times

200
After completing Stocking Up on Supplies

Upgrade the Main Building

Upgrade the Main Building to level 8

200
100
After completing the prophecies are coming true

Increasing Income

Build a Mansion
Build 2 Shaman Shops
There is a glitch where after you build one Shaman Shop, the quest will complete automatically.

200
200
After completing the prophecies are coming true

Buy the territory in the south

Buy Territory 8

100
After completing Communing with Spirits

The Path of the Warrior, Step Three

Build 2 Warehouses

100
After completing in the Pursuit of the Ancient Bear

Stonehenge Upgrade

Upgrade the Stonehenge to level 3
Order a lengthy deal at Stonehenge

120
100
After Stonehenge upgrade (level 2)

Unexplored Mysteries

Use 2 Research Booster
(Can be skipped using 10)

50

researchboost 30 1

After completing No Harm in Trying

Clear out 5 Bushes

Clear out 5 Bushes

10
After expanding into Territory 8

Defeat the Tiger

Beat on the Tiger until it runs away

350
After clearing out 5 Bushes

Deliver 200 units of Marble to the warehouse

Deliver 200 units of Marble to the warehouse

300

100

After completing Increasing Income

Build Theaters

Build 2 Theaters
Upgrade 2 Theaters to Level 3

100
200
After completing Increasing Income

A Villa Building

Build a Villa
Upgrade the Villa to Level 2

200
300
After completing Increasing Income

The Path of the Warrior, Step Four

Order 8 Standard Deals at the Forester's Hut
Order 4 Lengthy Deals at the Forester's Hut
Order 2 Long-Term Deals at the Forester's Hut

180

210

After completing the Path of the Warrior, Step Three

The Path of the Warrior, Step Five

Order 15 Standard Deals at the Lumber Mill

150

100

After completing the Path of the Warrior, Step Four

Buy Territory South of Pilot's Camp

Buy the Territory south of the Pilot's Camp (Territory 13)

100
After expanding into Territory 12

Raze the Murlod's hut to the ground

Raze the Murlod's Hut to the ground

100
50
After expanding into Territory 12

Tracking the Ancient Beast

Explore the Mysterious Cave 3 times

150
After completing The Path of the Warrior, Step Five

Investigate Mysterious Circles

Investigate 3 Mysterious Circles (two circles in Territory 11; one in Territory 14)

1,000
200
After completing By Pilot's Trail

A Feast to celebrate Dzu's victory

Build 2 Pig Farms (Have 2 in total)
Upgrade 2 Pig Farms to level 2 (2 in total)
Order 5 Standard Deals at the Pig Farm

100

100

After completing Tracking the Ancient Beast

Open to All

Deliver 750 to Island of the Ancients
Build 2 Art Galleries

Note: 500 delivered during Large-Scale Project quest on Marble Fjord counts here. So you'll have to deliver only 250.

25

50

After completing Valuable Thing in Marble Fjord

Drinks for the Feast

Build 5 Cauldrons (Have 5 in total)
Harvest Berry Bushes 10 times
Harvest Coffee Trees 10 times

250
After completing A Feast to celebrate Dzu's victory

The Spirits Will

Upgrade Sanctuary to level 3
Order a Lengthy Deal in the Sanctuary

120
100
After upgrading the Sanctuary

Glorious Victory

Order 3 Long-Term deals at the Theater
Order 5 Long-Term deals at the Shaman Shop
Order 10 Long-Term deals at the Ancient Bar

300
After completing Drinks for the Feast

It Couldn't be better

Upgrade Sanctuary to Level 4
Order a Long Term Deal in the Sanctuary

150
120
After upgrading Sanctuary to level 3

Find items for the Circus building

Find 5 Clown Masks in the Cave
Find 4 Boxing Gloves in the Airplane
Find 3 Conjurer's Hats Pilot's Camp

200
After expanding into Territory 13

Build an Observation Tower

Build an Observation Tower

5,000
350
1,500
Upon reaching level 35

The great path to the stars

Build 1 Observation Tower on each island (7 islands)

15k
1,000
1 Star Observatory
Upon reaching level 35

Place and Compete a Planetarium

Place and complete a Planetarium

35k
1,000
7,500
Upon reaching level 35

Accruing Wealth

Stockpile 700 Snowflakes

3,000

500

After completing Neighborly Help

Generous Aid

Send 1500 to Marble Fjord
Send 1500 to Marble Fjord

300

200

After completing Neighborly Help

Torvald Wants to Help

Send 2000 to Farmer's Bay
Send 2000 to Farmer's Bay
Send 2000 to Farmer's Bay

1,000

150

After visiting Farmer's Bay for the first time

Handling with Care

Find 5 Plant Fiber on Berry Bushes
Find 3 Pincers in the Wrecked Airplane

Note: Completing this quest unlocks Nacre Factory

200
After unlocking and exploring Azure Sea territory in Islands of the Athlantis