Available for Android March 15th 2014, v1.71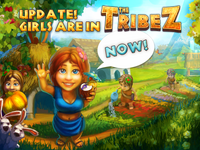 Introduction
Edit
Take part in a new fascinating contest: help the tribezmen make friends with the leprechauns! Build the Garden and the magical people will reveal the secret of their treasure to you! With the addition of the Contest Map, it is now much easier to choose the contest you want to participate in. Do not miss out on a chance to get the Amazon Queen's Magic Totem. It will allow you to house charming tribezwomen in your village!
Android launch on 3.15.14 with 14 Day Duration
What's New!
Edit
Spring Garden (similar to both Winter Glade and Fire Mountain)
New Currency: Clovers, Golden Dinos, and Flower Keys
New Decorations: Blooming Bush, Lake, Carousel, Congratulations, Flower Cart, Crystal Bush, Stone Machine, Statue of Liberty, Memorial, Pumpkin Quarry, Thinker, Pumpkin Carriage
New Production: Rice Field and Orange Tree
New Social: Dino-Nursery, Bronze Bell
Quest Title
Requirements to Complete
Rewards
When it Appears
Berry Treat

Order 10 Long-Term Deals Forester's Hut
Gather food from a Berry Bush 15 times
Collectprofit from a Nice Hut 25 times

100
120
Launch of Spring Festival
The Secret of Joy

Find 4 Blooming Branches in the Forester's Hut
Find 5 bottles with the Scent of Spring in the Fields
Find 6 Lucky Horseshoes in the Quarry

200
150
Launch of Spring Festival

Flower Fragrance

Plant 4 Pretty Bushes

200
50
Launch of Spring Festival

Food for Leprechauns

Feed 15 Leprechauns
Find 5 keys to feeding the leprechauns

200
150
(1 Leprechan Treasure)
After placing pretty bushes
Leprechauns' Garden

Complete the competition on the Spring Meadow

1,000
500
After The Secret of Joy
Vibrant Spring

Find 5 Tulips in Cozy House
Find 5 Lilies of the Valley in a House
Find 5 Snowdrops at the Ancient Bar

500
200
After The Secret of Joy
Tumult of Colors

Find 3 Violets in the cave
Find 3 Narcissus in the Airplane

300
150
After The Secret of Joy
Spirit Smile

Activate the Spirit of Affluence
Order 10 Long-Term Deals at the Dino's Lair

150
150
(1 leprechaun house base)
After Berry Treat
Treats for all

Feed 200 leprechauns

1,000
50
50
After Berry Treat
Green House

Build a Leprechaun's House
Upgrade the Leprechaun's House to level 4

5,000
1,000
After Spirit Smile

Flower Fragrance

Plant 15 Wheat Patches
Build 6 Flowerbeds
Plant 4 Pretty Bushes

160
160
(1 Lily of the Valley)
After Spirit Smile
Small Residence

Upgrade the Leprechaun's House to level 2

300
250
After placing the Leprechaun House Base
Sparkling Stones

Find 5 Topazes in the Leprechaun's Hat
Get a Golden Dino by completing the Garden competition
Get a Volcano Dino by competing the Fire Mountain competition

800
300
After placing the Leprechaun House Base

People Are Partying

Root out 15 bushes or patches of grass
Cut down 7 trees
Fulfill 25 wishes at the Ancient Bar

170
200
1
After Flower Fragrance

Hidden Treasure

Explore the cave 10 times

200
200
(1 unknown)
After People are Partying

Everybody's Invited to the Party!

Collectfrom House 10 times
Collectfrom Nice Hut 15 times

250
210
1
After Hidden Treasure

In Pursuit of Gold

Explore the Airplane 10 times

230
(2 Horseshoes)
After Everyone is Invited
Walking with Butterflies

1,000
200
After Vibrant Spring

Flower Fragrance

Plant 3 corn patches

200
50
After Food for Leprechauns
Pot of Wonder

100
100
After 3 corn patches
Four Petals

Stockpile 200 Four-Leafed Clovers

2,000
230
After Pot of Wonder
In Game Dialogue
Edit
Aurora: "Chief! Great news! A spring festival has come to the island!"
Aurora: "Even leprechauns have decided to quit their tomfoolery and join the fun on the Island of the Ancients!"
Aurora: "Help leprechauns take part in a new competition, celebrate the spring festival with us!"
Aurora: "Leprechauns get scared so easily! A lot of time pay pass before they show up again"
Aurora: "Leprechauns will come to your village no more than once every half hour, Chief. Also, they won't show up more than 3 times per day.
Aurora: "Use the power of Treasure - and the meek leprechauns will answer your call at once!"